This summer, unearth some unexpected nuggets in Rutherglen.
While its reputation as one of Australia's oldest and best wine-producing regions was built on its big, flavourful reds and globally-prized fortifieds, Rutherglen is increasingly known for its innovation as 21st century growers and makers forge new, sometimes surprising traditions.
Think award-winning whisky from a renowned muscat maker. A lovingly crafted riesling from a winemaker best known for his lip-smacking durif. And, coming soon, an ultra-modern, international-destination dining experience in a 19th century castle.
Since 1859 six generations of Rutherglen's Morris family have produced highly decorated fortified wines coveted by wine lovers worldwide and, since the arrival of new owner, John Casella, in 2016, the Morris name has become synonymous with a superb new range of whiskies finished in the same barrels in which their extraordinary fortifieds have been made.
Says Morris Whisky's Lara Gardner: "Access to this incredible library of fortified barrels, some of which are over 100 years old, was just an incredible opportunity."
Morris Whisky is crafted under the careful hand of head distiller, Darren Peck, who produces four single malt whiskies finished in Morris muscat, topaque and sherry barrels which Lara Gardner says, "creates a unique depth of flavour that really sets our whisky apart from other Australian whiskies."
In 2023, a brand new cellar and distillery door experience will be launched at Morris in Rutherglen, bringing the worlds of whisky and wine together in a visitor experience Lara says will be the only one of its kind in Australia.
"I think it's the king of Australian white varieties", says Andrew Sutherland Smith of the only white wine he chooses to make at his Warrabilla Wines.
"Ninety five percent of what we do is great big structured wines - shiraz and durif - with plenty of fruit oomph, plenty of colour, plenty of tannin. Great big rich shiraz and durif."
But when it comes to whites, Andrew, a fifth generation Rutherglen winemaker who "grew up playing in wineries" has a special passion for riesling: "It's one of the great joys and great secrets of Australia still. People think of chardonnays as the king of whites but I think riesling is actually the best."
He describes his Warabilla style as "pretty damn dry. It has low sugars so you get crisp acidity and lovely fresh floral jasmine and citrus fruit characters. It's just a beautiful variety to work with."
Andrew's favourite food pairing with Warrabilla riesling is "fruits of the sea, especially yabbies, prawns and oysters which are a beautiful match with the riesling's clean, vibrant, fresh flavours. I like to think ours has got everything I look for in a good riesling. It really has a lovely character."
And then there's KIN a sleek new restaurant in the iconic 19th century All Saints Estate castle at Wahgunyah set to become a dining destination in its own right when its doors open this summer.
Co-owners of All Saints and Mount Ophir Estate, siblings Eliza, Nick and Angela Brown, spent recent lockdowns pooling their ideas and planning a winery restaurant of a standard found in the great wine regions of the world.
"We've always produced award-winning wines", says CEO Eliza Brown, "but we felt we really needed a building to support and reflect that standard and to be a place we can share and celebrate with family and friends and which will be our legacy for future generations."
Hospitality Manager Yvan Meunier (ex-Circa, Prince Hotel and Food & Desire) has worked closely with the Brown siblings to produce a dining experience that reflects their culinary vision and their own family traditions and stories
KIN will showcase not just All Saints and select regional wines but the menu will be almost exclusively driven by seasonal availability of the fresh produce grown there and on the Brown family's Mount Ophir Estate, which has extensive olive and citrus groves and orchards as well as iconic accommodation.
Enjoy a bubble or two? Check out Rutherglen's finest sparkling makers. Explore our Rutherglen vineyards to find your perfect pairing.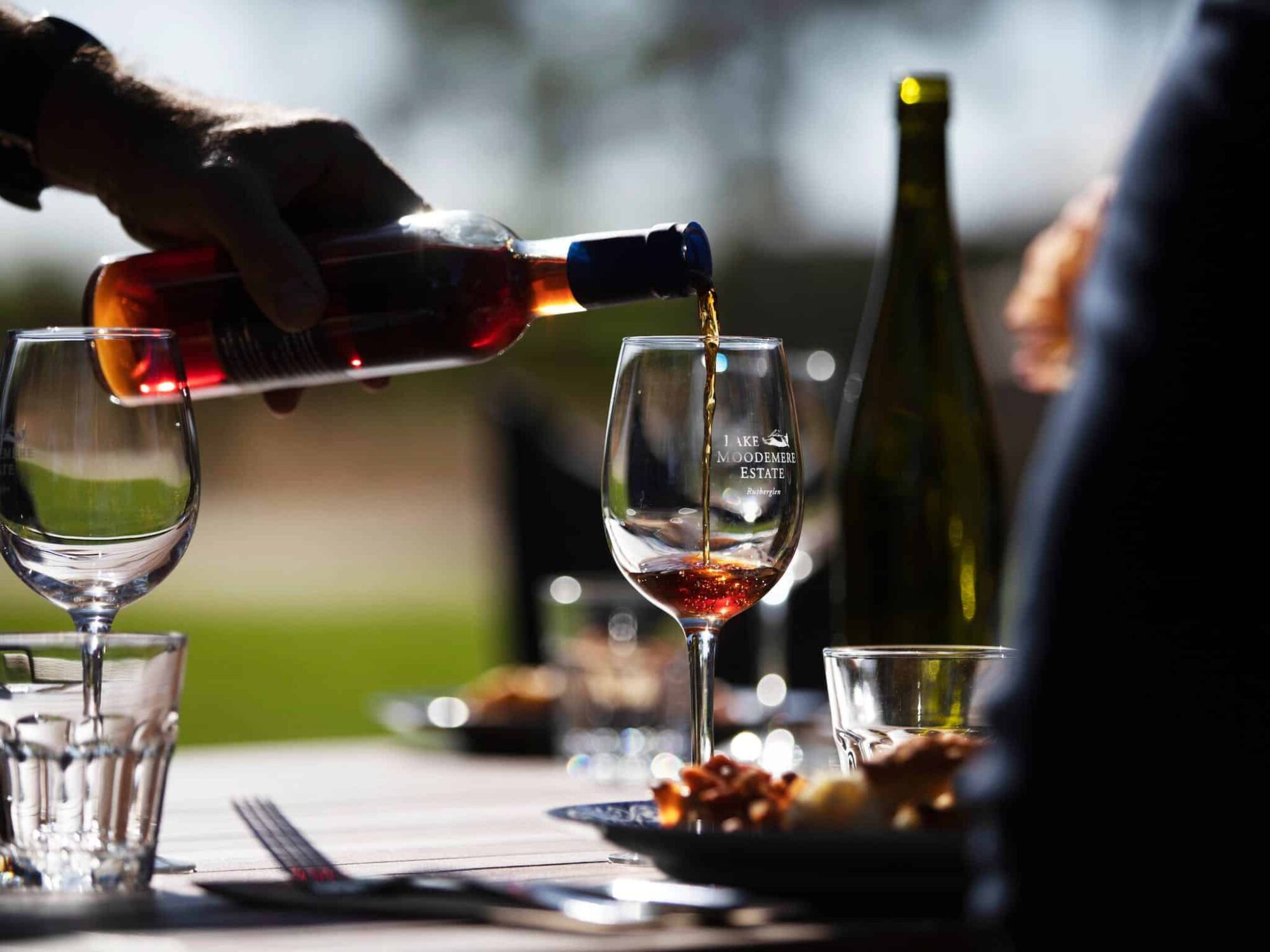 North East Victoria's first and only Certified Sustainable Vineyard, and one of Australia's Top 50 Vineyards. Lake Moodemere Estate is…
Can't Find It? Use Our Search
Can't Find It?Use Our Search