Roam Rutherglen Winery Walkabout:  10 - 11 June Long Weekend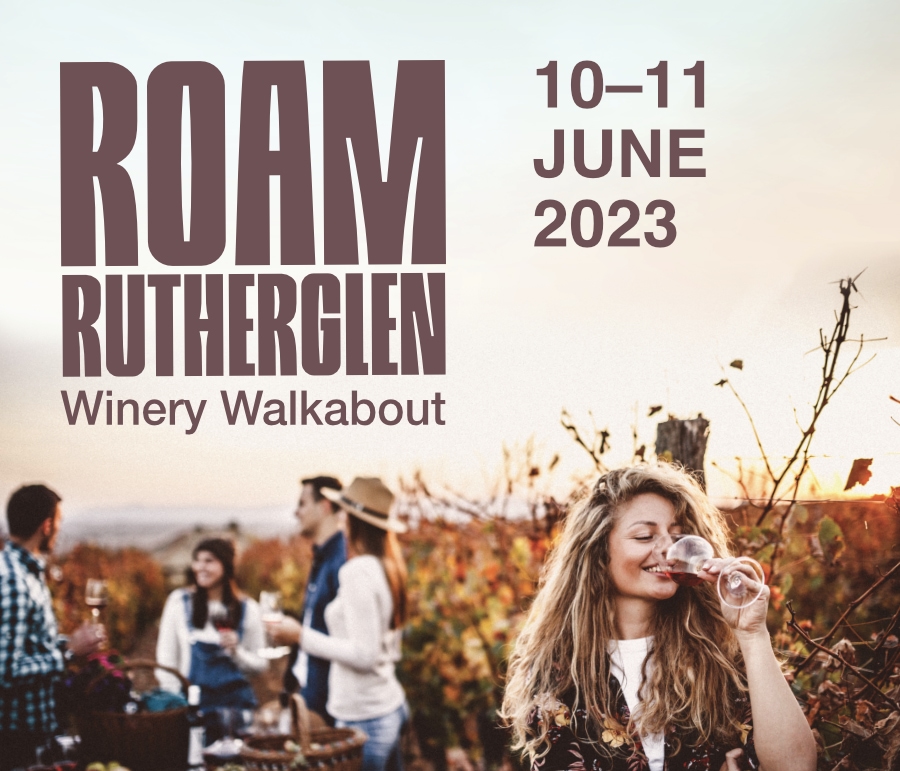 Roam Rutherglen Winery Walkabout
50 YEARS OF FESTIVE CELEBRATIONS, REIMAGINED
Roam Rutherglen, it's the place on every wine lover's lips. This year marks our 50th birthday celebration of Winery Walkabout, and you're invited.
The Winemakers of Rutherglen are now emerging as Victoria's most progressive artisans for new style Muscats, gins, Fianos, Malbecs, aperitifs, IIberian wines and more. The June long weekend festival is certainly one not to be missed.
The full festival program features premium tastings, live entertainment, and unique sensory cellar door experiences from 15 of our region's wineries.
There will be something for everyone, from sipping on Muscat cocktails and dancing to live music, to connecting wine lovers and winemakers through new varietals and unexpected winemaking techniques.
Previously allowing access to only one day of festivities, the Festival Lovers ticket now includes two days of Festival entry for only $65 (early bird pricing). Demonstrating exceptional value, the price also includes a branded wine glass, 15 free tastings (per day), a food voucher to be spent at any of the participating wineries and non-alcoholic offering. This is but one high-value ticket option.
Another new feature is one continuous hop-on, hop-off bus loop taking in all participating wineries rather than multiple smaller loops. With more than 25 buses operating and driving in both directions, this reinvigorated format allows 'roamers' to taste the region in your own time, your own way. Jump on any Festival Shuttle Bus and it will get you where you need to go.
For those travelling from elsewhere in the region, regional bus services will run from Corowa, Howlong, Yarrawonga, Wangaratta, Chiltern, Beechworth, Albury and Wodonga.
Responsible self-driving is highly encouraged. In fact, festival access is absolutely free for designated drivers. The Designated Drivers ticket provides non-alcoholic options across all participating wineries - think mocktails, cordial bars, non-alcoholic punch and of course tea, coffee and soft drinks.
Tickets are limited so get your group together and secure your tickets today.
Super Saturday Special Events
Enjoy the slower pace of Saturday whilst uncovering cellar door secrets and special events only available on Saturday. The same great festival fun now with the addition of more exclusive wine experiences, masterclasses, tours giveaways, and winery activities.
Space is limited, secure your tickets today and experience more of Rutherglen this year.
For the full Saturday Program, please look at this years Fetsival Brochure.
Some of our participating wineries are hosting additional events, that don't require a ticket.
*please note these experiences are subject to capacitiy.
Chambers Rosewood Winery : Back Vintage Tasting, available all day and subject to capacity.
Lake Moodemere Estate : Hole in One Challenge at the Lake starting at 10am, prizes award to the winner.
Olive Hills Estate : Win a Rutherglen getaway including two nights accommodation, complimentary tasting and local hamper.
Scion Wine: Hand crafted from Durif, Scion's After Dark, semi-sweet fortified wine tasting matched with dark chocolate. Bookings highly recommend direct with the winery.
Warrabilla Wines : Visit the Warrabilla team at the winery on Saturday and go in the draw to win limited edition magnum 2022 Reserve Durif
Private Vehicle (up to 7 people)
Want to attend Roam Rutherglen Winery Walkabout in your own car? All you need is a ticket. Designated drivers are even eligible for free tickets!
Private Buses (8+ people )
Attending Roam Rutherglen Winery Walkabout with your mates in a vehicle that seats 8 or more people? Make sure you register your vehicle so you can book it in to wineries.
Any vehicle carrying eight or more passengers (bus, minivan, limousine, etc.) must register via this website in order to attend Roam Rutherglen Winery Walkabout. Once your vehicle registration is approved (takes up to two business days) you can then log in to our online booking platform and book your vehicle into all the wineries you want to visit during the festival.
Unfortunately large vehicles will not be accepted at wineries without a registration - no winery booking, no entry!
As a condition of festival entry, drinking on any and all buses is strictly prohibited both prior to arrival, and throughout the day. Entry will be refused.
For detailed advice on how to register your bus, please have a read over this handy info pack.
So don't delay, register your vehicle today.
Now that you've registered your vehicle (seating 8 or more), its time to plan your festival itinerary.
Curate your ultimate winery experience through our customised online itinerary tool.
Simply follow the link below and start booking into wineries.
Regional & Shuttle Buses
Accommodation in Rutherglen books out very quickly during Roam Rutherglen Winery Walkabout.
If you aren't able to find accommodation in Rutherglen, try Corowa, Howlong, Yarrawonga, Wangaratta, Chiltern, Beechworth, Albury or Wodonga - our regional buses service these towns across both days of the festival which means you can still get to Roam Rutherglen Winery Walkabout without needing to drive.
If you purchase a ticket on our Regional Buses to Rutherglen, your ticket will include access to the hop-on hop-off shuttle bus as well. In 2023, there will be one route linking all 15 of our wineries together.
Got Questions?
We have a dedicated customer service team ready to assist with any question you might have - tickets, buses, events, you name it!
02 6064 2100